When GOATi Entertainment set out to make 22 Racing Series over a decade ago, we knew we were taking a risk. We could only deliver on the game's core values if money and digital assets could be transferred seamlessly online – something that was impossible when we started developing 22RS. Then, blockchain changed everything.
Key points
We needed a solution to facilitate online transfers of value for our game, 22 Racing Series, but the global financial infrastructure for this didn't exist.
Blockchain emerged as a promising solution, but potential partners kept telling us they couldn't make what we needed.
The Phantasma Chain team understood our needs perfectly and provided innovative solutions to help us deliver a positive experience for gamers and developers.
Some of key drivers for developing 22RS as an international esport was to make a game that was globally accessible, breaking down barriers to entry for professional sports/esports and also allowing the greater gaming community to monetise their passion.
From the start we knew this would require an online transfer of value, both for money and digital assets – including vehicles and event passes, etc.  However when development started over a decade ago, the ecosystem for global finance simply wasn't cut out for it; the high costs of international money transfers were prohibitive, and wait times to clear transactions were lengthy. We'd also have to do a lot of admin to process entrance fees and pay out winnings.
While we could have released 22RS without these features, building a global online competitive esport was a core value. We believed that frictionless transfer of digital value was critical to a sustainable esports business model for everyone from players to teams, leagues, organisers and content creators. Supporting the wider esports and gaming community in this way was not something we were willing to compromise on.
So, we forged ahead. Developing a game that relied on a non-existent digital finance infrastructure was extremely risky (as we identified in our SWOT and PEST analysis in 2010), but it seemed exceedingly unlikely that others weren't thinking along the same lines as us. Our plan – and we hoped that it wouldn't come to this – was that if no one else developed what we needed, then we would build it ourselves.
Luckily for us, blockchain was on the way.
The Emerging Blockchain Solution
When blockchain finally came about we were very intrigued and thought that it might be the solution for us. We looked at Bitcoin when it launched, installed bitcoin miner 1.0, took a poke around, and discussed it in one of our afternoon meetings. It was definitely interesting, but it wasn't yet anywhere near what we needed for our business model. 
So we decided to keep an eye on it, uninstalled the bitcoin miners – which were using up precious machine resources that we needed for our development software – and got back to work.
By early 2017, blockchain technology looked like it might be close to what we needed, so we started doing some research into new blockchain projects. We soon found that the public promises of a project's technology were rarely anywhere near the truth.
And then the ICO boom happened. While there were undoubtedly some good projects around, there were also a lot of folks taking advantage of the FOMO and launching vapour projects solely as a money grab. We didn't want to be tarred with the wrong brush due to perceptions, and the tech still wasn't quite there, so we backed off.
In the mean-time, we pushed on with our game development while we continued to meet with some potential blockchain partners in the hope we'd find a good project.
The Search for the Impossible
Over the next couple of years, our search for the right partner led to hundreds of meetups and dozens of business meetings, which were interesting but unfruitful.
When we discussed the features we wanted to create with blockchain project teams, the response was a definitive "It's not possible." At that point, many blockchain projects were already making quite a bit of money, so they were happy with the status quo and had no motivation to innovate.
A dinner party with some friends proved to be a turning point. I got chatting about some of the things we wanted to do with blockchain and how no partner that we'd spoken to was able to do these (surely so necessary!?) things. My friend (Bill Petridis, who entrenched in the crypto space) agreed that the functionality we needed was not only reasonable, but also extremely necessary for the games industry and indeed the entire customer base of blockchain.  I remember him saying something to the effect of "Come on, there has to be someone doing this stuff you need. Leave it to me – I'll find them."
Over the coming months, Bill presented me with heaps of projects he'd come across (I never dared ask him how many Telegram groups he'd scoured). A bunch of projects were discarded after a few questions; others required a little more research, but ultimately didn't make the cut. 
Phantasma Chain
Built for Gaming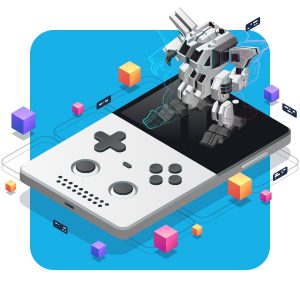 After a few months of searching, he presented me with a blockchain project called Phantasma Chain. They were the first who seemed like they might tick all the boxes. Bill fielded some questions from both parties and then arranged a meeting.
Speaking with the Phantasma Chain team was refreshing. They were the first blockchain meeting I'd met who not only understood our needs but had also been thinking along the same lines. They'd created their own blockchain from scratch, and their motivations were much the same as ours – what they'd envisioned wasn't possible with the then-current generation of blockchain architecture.
With other projects teams told us they couldn't do what we needed, Phantasma was telling us either, "Yep, we're already building that" or "Awesome, that's a cool idea. We'll do what we can to make it happen." Phantasma Chain was a breath of fresh air. 
We've been working with Phantasma and developing on their purpose-built-for-blockchain-gaming chain since the start of 2019. It's been a fantastic experience working with a like-minded team who are actively working to solve real-world problems with innovative, intelligent and intuitive solutions.
Pavillion and Phantasma Chain strive to give gamers and developers legitimate and and tangible benefits and simplify the entire experience at the same time. Our aim is to make the backend interaction with blockchain invisible to users, so they can get the benefits, without compromising on the current-gen easy to use gaming experience.
If you'd like read more about our partnership and technology, check out our Reddit AMA.